Social behaviour is one of the most exciting aspects of animals' lives. Nearly all animals are social at for least part of their life, and we are only just beginning to understand the causes of social behaviour and its implications for macroevolution, biodiversity and conservation. Research into social behaviour is a highly interdisciplinary topic and our group benefits from several collaborations, both with colleagues from other departments at the University of Bath and with researchers from other institutions. Behavioural ecology, evolutionary biology, mathematics, neurobiology and the social sciences all converge in this exciting field of study.
---
Cooperation
Cooperative behaviours are found in organisms ranging from single-celled microbes to human beings. Cooperation underpins many exciting aspects of life on earth, including the care of young animals by their parents, the complex interactions between groups of humans inhabiting different areas of the globe and even the disease-causing capabilities of some pathogenic bacteria. The Biodiversity Lab is a partner in two EC-funded consortia, INCORE (Integrating Cooperation Research across Europe) and GEBACO (The Genetic Basis of Cooperation). These bring together scientists working on many different aspects of cooperation. Further details may be found on the INCOREand GEBACO websites.
(Prof. Tamás Székely , Dr Clemens Küpper , Dr Freya Harrison , James St Clair , Araceli Argüelles Ticó )
---
Breeding systems
Much of the work in the Biodiversity Lab focuses on breeding systems. How and why do mating behaviour and patterns of parental care vary between individuals and between species. The fundamental approach we adopt is one of conflict and cooperation between parents. Our work centres firstly on establishing the genetic bases that push an individual's behaviour towards or away from cooperation and secondly on understanding the selective forces acting on this behaviour.
We investigate birds and insects (dragonflies and damselflies), these are convenient systems that are amenable to experiments. We use a variety of research approaches, including experiments, mathematical modelling, phylogenetic comparative analyses and molecular genetic analyses. Given that the social behaviour of vast majority of animals have never been described, let alone analysed using advanced techniques, we believe our current knowledge is only the tip of the iceberg: immense variation in breeding systems has yet to be discovered in nature. Our exploration sometimes involves working in remote and exotic places such as in Madagascar, the Falkland Islands or Mexico but at other times we work within the walls of a lab or aviary. Our work on breeding systems aims to address three broad questions:
1) Why do some species exhibit biparental care while in others only the male or the female looks after the young? Shorebirds have an outstanding amount of variation in their breeding systems, and we have carried out a series of studies to address why. For instance, we showed that the demands of chicks restrict the breeding system. In species whose chicks require little care, one parent (the male or the female) can abandon the family and mate with a new partner with little or no impact on the first brood of chicks. We also used experiments and molecular sex determination of chicks to explore why males of the Kentish plover (Charadrius alexandrinus) care more than females. We established that, in this species, the adult sex ratio is biased toward males and this likely facilitates female desertion and polyandry (Székely, Thomas & Cuthill 2006).
(Prof. Tamás Székely , Dr Valérie Olson , Dr Clemens Küpper , Araceli Argüelles Ticó )
2) What determines whether chicks are cared for by the male or the female? In penduline tits (Remiz pendulinus) both parents start looking for a new mate before they actually complete their clutch. What determines whether the male or the female cares for the chicks? The answer to this question is not straightforward, because both the male and the female may be promiscuous. Currently we are investigating the behavioural cues that are used by both males and females in mate choice and parental care decisions.
(Prof. Tamás Székely , René van Dijk )
3) What drives sexual size dimorphism? In some birds the males are larger than the female whereas in others the reverse is the case. How and why did these different types of dimorphism evolve, and how is dimorphism linked to breeding systems? We investigate these questions in bustards and seabirds using phylogenetic comparative analyses.
(Prof. Tamás Székely , Dr Valérie Olson , Dr Alejandro Serrano , Araceli Argüelles Ticó )
---
Social Group Structure and Networks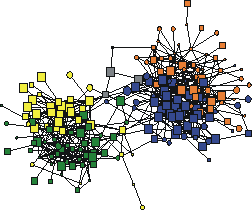 Population and community structure are key mediators of the temporal and evolutionary dynamics of social behaviours. Each individual within a population may interact with a varying subset of other individuals. The type and strength of interactions can vary between different pairs of individuals and over time. 'Mapping' the social interactions in a population results in a diagram like the one below: a social network. Social networks are rarely homogenous and their topology can vary greatly between populations. The topology of a social network can play an important role in mediating the evolution of cooperation. Members of our group are interested in revealing the social networks present in animal populations and in the relationships between network structure and the evolution of social behaviours. To this end, we study social interactions in wild and captive populations. The minuscule ant Temnothorax albipennis is a particularly good model system. T. albipennis colonies can be maintained in the lab between two microscope slides, providing the observer with a perfect viewpoint to study the sometimes mystifying events occurring within their tiny world.
(Dr Dick James , Rebecca Hayward , Dr Freya Harrison )